Is Brand Management important for your design website?
I was reading about a recent six-figure purchase of the brand.com domain name and researching into brand.com reviews online when...
March 18, 2014
I was reading about a recent six-figure purchase of the brand.com domain name and researching into brand.com reviews online when I thought about how interesting it'll be to connect the topic of branding and design.
While there are countless articles on design inspiration, tools for building awesome websites, and tips on marketing, business and even SEO on this blog, I think little has been written about branding.
In fact, most designers don't see brand management as being an important part of their identity. Not only is it important; it is critical!
Effective Branding is More than Just Design
Yes, you should have a strong logo and thankfully an article about this has already been written on this blog. The typography of your website matters, and there's an article about this on this blog, too.
However, effective branding is about more than just these things; as a designer, it's easy to work on things like typography, the logo, and the look and feel of your website while you ignore other important things that you should focus on such as:
What results are being displayed when people search for your site online
What do people think when your name/website is mentioned
How much control do you have on what is being said about you online
There are lot of other factors but ultimately, it's about making sure you're in control of your brand and what people see when they decide to check out what you have to offer as a designer.
Why is Brand Management Important for Web Designers?
Whether it's to buy a $10 book or commission a $5,000 web design project, people are now relying on reviews more than ever.
In fact, recent data from Local Consumer Review Survey has revealed that, when it comes to paying for products or services online, 79% of online consumers trust reviews as much as they trust personal recommendations.
Especially in a period where Google is a click away, people find it convenient to search for your name + reviews than to get recommendations about you. You only have a few minutes to capture their attention; if you're not effectively managing your brand, you can lose more than half of your leads as a result.
Tips for Effectively Branding Your Website Design: A Case Study in Brand.com Reviews
Brand.com is one of the top sites online when it comes to branding and reputation management and I think they make for a great case study when it comes to learning effective brand management.
Below is the screenshot of the first few results I saw when I searched for "brand.com reviews" in Google. You can view the results for yourself here: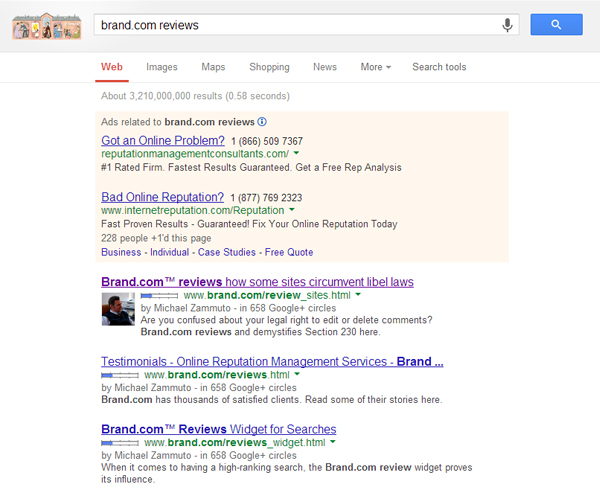 You should probably notice a few things if you dive further into the results for this search, however, there's a summary of the lessons below. Whether you're a freelance designer who has a single-page website, a blogger, or a web design agency, implementing these tips on your design website can lead to some massive results:
1. Accept and Display Testimonials
Start accepting testimonials from clients who love your work, also try to get in touch with clients you've worked with in the past that are willing to give you a testimonial. Create a special page on your site where their testimonial is featured; by doing this, when people search for your brand online, they'll come across this.
When you search for "brand.com reviews" in Google, the first few results show various pages on the website, including a page that feature testimonials from clients.
2. Create a Page Dedicated to Promoting Positive Reviews about Your Website/Services
When those who say good things about you are rewarded, more people will be inspired to say good things about you.
You don't necessarily have to reward them by offering them money; instead, you can reward them by letting them know that you saw and appreciate their review of your website/services. A great way to do this is by creating a page on your website dedicated to appreciating people who review you; you should also link to their reviews so people who come across this page by searching for your brand will be able to check them out.
3. Build Relationships With Sources that Can Review You
Build a relationship with bloggers in your niche as well as relevant sources that can review you; by building a relationship with them and looking out for their interests, they'll be likely to review your business/website when the situation calls for it.
4. Be Active on Relevant and Authoritative Sites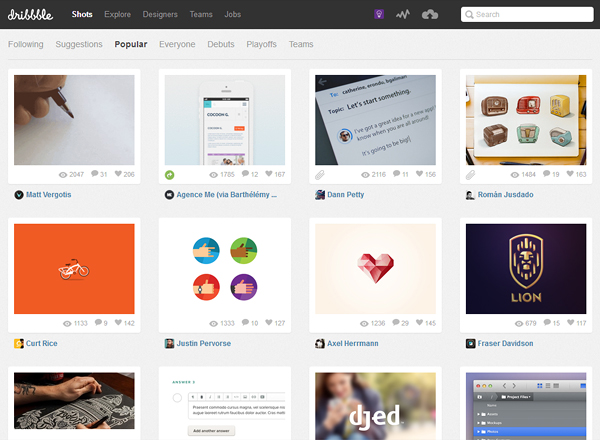 There are several powerful and authoritative sites that you can benefit from having a presence on. By being on these sites, not only can you feature your designs and build up your profile, you can also increase the chances of having your profile on these sites show up when people try to search for your name or your website.
For example, Dribbble is one of the top sites online that allows you to showcase your designs; by creating a profile and being active there, you'll be able to build up your ratings and ensure your profile ranks when people try to find you.
5. Create Social Profiles on Several Relevant Sites
Make sure you don't just have one social media profile; have a lot of profiles and make sure you're active on the sites these profiles are on.
For example, you can create profiles on these sites:
Dribbble
Behance
Pinterest
Facebook
Twitter
Instagram
Also, make sure you have profiles on other relevant sites you can think of and also make sure you're active on these sites. When people search for your brand online, they'll be soaked into these sites and come to appreciate your work, eventually hiring you.
How Should a Well-Branded Designer Profile Look
I think it'll be more practical to showcase an actual designer implementing most of the lessons from my findings based on analyzing brand.com reviews; what better example to use than the author of this blog, Igor?
A quick search for his name on Google (click here to see the results) showed that he's also following the principles outlined in this article; in the results on the first page are his blog, his Pinterest profile, Dribble profile as well as other social profiles. If you dig deeper, you'll also find quality reviews of his name and this site. This is the exact same principle effectively used by brand.com.
So what are you doing? Start effectively branding yourself by implementing the lessons in this article!
Thanks to Brand.com