Instagram 101
Instagram makes a strong case, if you're interested in raw numbers and unique appeal. Instagram has 200 million active users and provides a huge asset for visual content
July 08, 2014
How do you choose which social media networks to participate in?
Certainly, there're a ton to choose from. Are you on Twitter, Facebook, Google+, and LinkedIn? Are you on Pinterest and Tumblr? Instagram and Vine?
How many social media networks can you handle?
Instagram makes a strong case, if you're interested in raw numbers and unique appeal. Instagram has 200 million active users and provides a huge asset for visual content, which we all know is driving social like none other. It's one of the top 10 most popular smartphone apps with growth nearly doubling that of every competitor ahead of it on the list.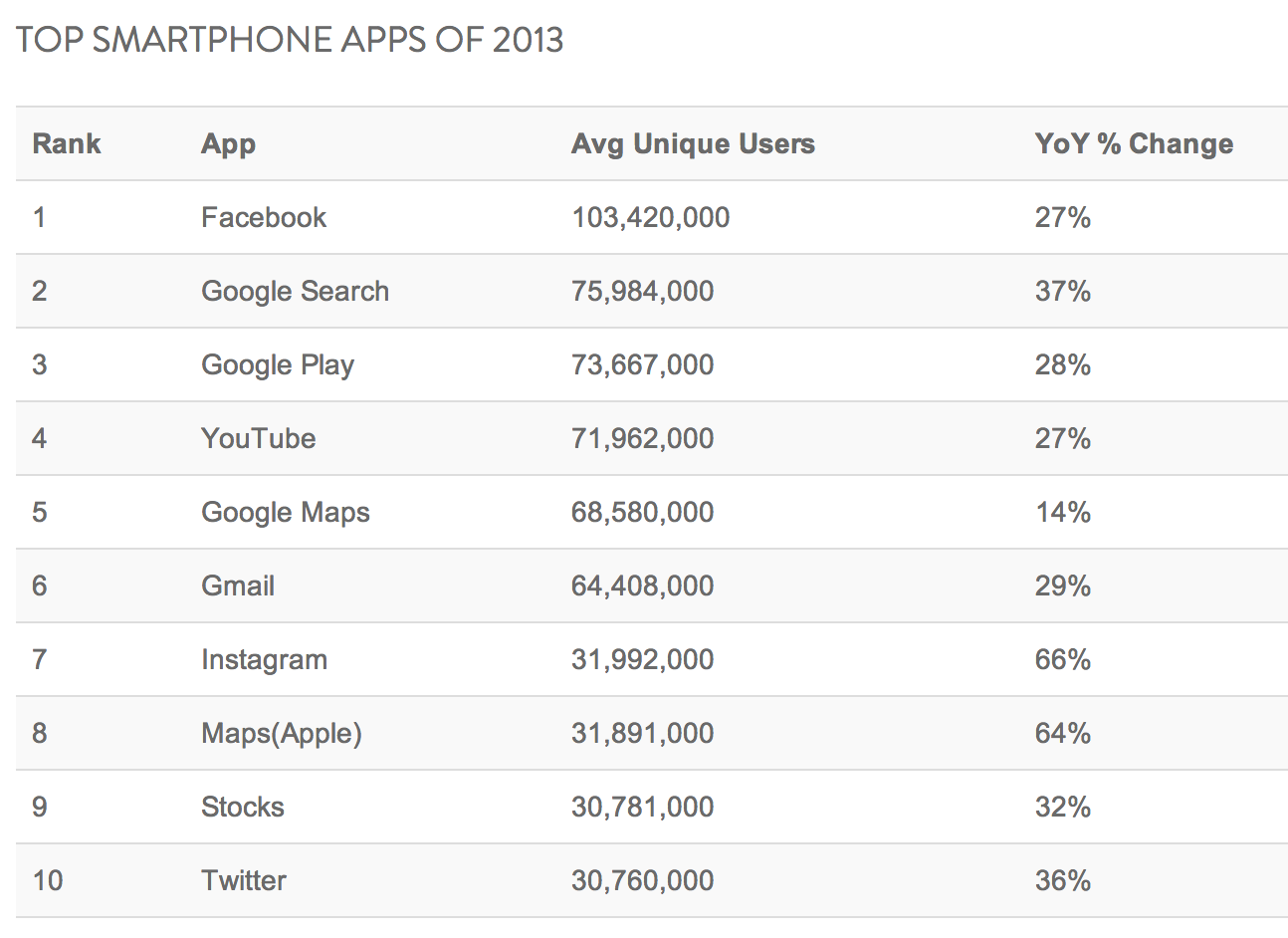 More and more, it seems that companies default to having a Facebook and Twitter account and then make the choice for a third among Google+, LinkedIn, Pinterest, and Instagram. For those who use Instagram in their personal lives, adding Instagram to the business mix is becoming an easier and easier decision.
So the next question becomes: How do you get started with Instagram for business?
Here's the ground I'll cover in this post. You can click any question to go straight to that answer (or browse the whole list if you'd rather).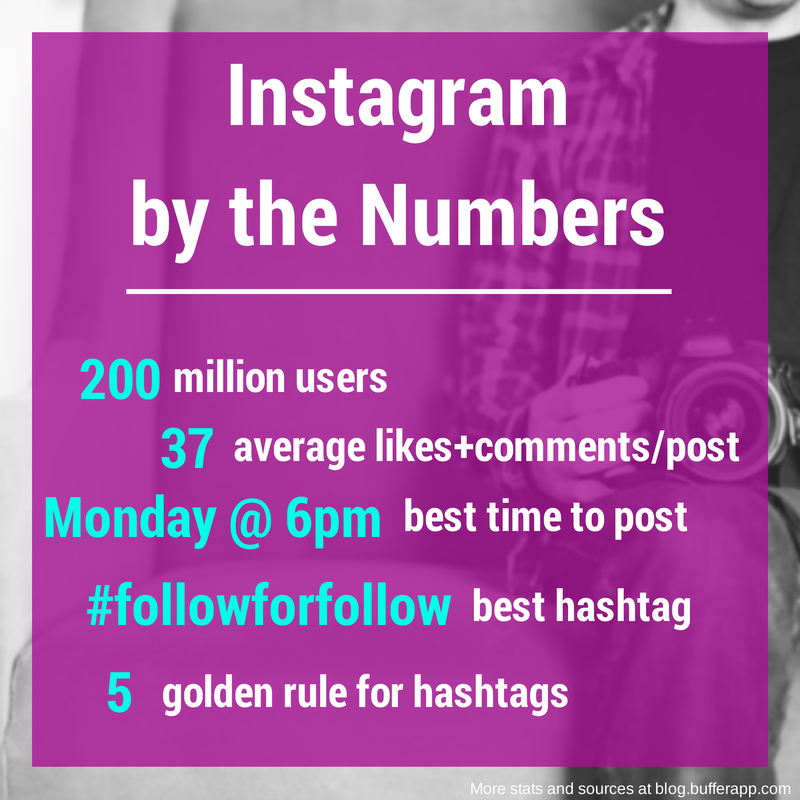 How can I get started with Instagram?
You can download the app for iOS or Android or view photos and follow users straight from the web. You'll need to use the mobile app for uploading, editing, and sharing images as there's currently no way to do so from the web.
If you're a brand starting from scratch, there are many creative ways you can launch your Instagram account. One of the neatest examples I've seen is from the clothing store Kooples, which did a daily countdown until the account went live.
What are the exact image sizes used by Instagram?
Square images reign on Instagram.
Profile pictures are 110 pixels by 110 pixels.
The standard size of an Instagram photo is 612 pixels by 612 pixels.
Any image you take—up to 2048-pixel square—can be resized to work in various places around the site. For instance, the mosaic that appears at the top of your made up of seven of your popular past photos. The largest image in the mosaic will be 409 pixels by 409 pixels. If you're new to Instagram, your cover will be created as soon as you have shared seven posts.
What are the best analytics tools for Instagram?
Like Facebook and Twitter, third-party analytics apps exist for you to learn more about how to get the most from your Instagram posts. Here are two of the top analytics tools:
Iconosquare – An incredibly deep (and free!) set of Instagram tools, Iconosquare lets you view and browse Instagram from right within the Iconosquare interface and spits out incredible amounts of data about your account and interactions—growth charts, engagement rates, best times to post, and so much more.
Totems
- An analytics suite built especially for brands, Totems covers all the bases for Instagram stats, including an analytics dashboard, hashtag monitoring, and a social CRM. Pricing begins at $149 per month.
What is a good benchmark for engagement?
If you want to set your sights toward achieving success like some of Instagram's big brands, then you can aim for the same numbers they get. Sabel Harris of Track Maven, who put together a big report last fall about Fortune 500 companies on Instagram, notes that big brands receive an average of 37 total likes and comments for every 1,000 followers.
You can extrapolate this to fit your company's following. Multiply your followers by 0.037.
If you've got 1,000 followers, aim for 37 likes and comments
If you've got 500 followers, aim for 19 likes and comments.
If you've got 5,000 followers, aim for 185 likes and comments.
We've got 618 followers on our Buffer Instagram, so we should aim for 23 interactions per post.
Of course, you may expect to have a somewhat lopsided ratio of likes to comments. Totems, an Instagram analytics service, has found that the average distribution of engagement on a post is 100 likes for every 1 comment.
What is the best time of day to post?
Analytics app SumAll researched the best times to post to seven different social media sites, Instagram included. Their findings for Instagram:
5:00 to 6:00 p.m. weekdays and 8:00 p.m. on Mondays with a sweet spot at 6:00 pm
Here's their fun infographic with all the social timing at-a-glance. Instagram is featured there in the middle.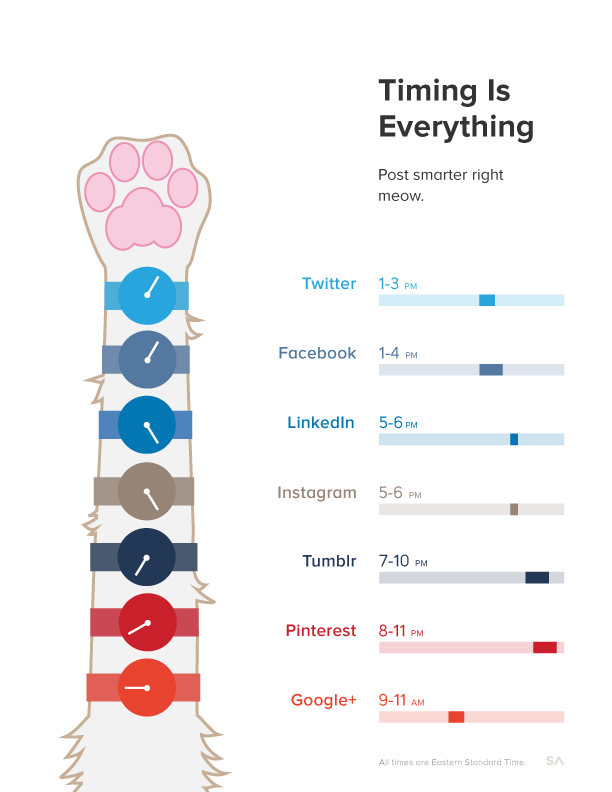 The mobile nature of Instagram makes the timing a bit different than Facebook or Twitter, which can both be accessed during the day from a work computer (Instagram is on the web, too, but is typically mobile-first). The mobile readiness of Instagram makes the "best times" curve a bit flatter since the app is available any time with a quick grab into your pocket or purse.
SumAll also mentions the Burrito Principle, a concept introduced by Darian Rodriguez Heyman at the Stay Classy blog. Basically, you want to catch people during down time, when they're eating a burrito for instance and have the freedom to check social media or pop onto Instagram.
Your posts should be timed to catch people when they have time on their hands.
Another thought about timing is the Late Night Infomercial effect. Basically, you post when no one else is posting, when there's less noise on the network.
If you're up for experimenting, start with the specific times outlined by SumAll and work your way through the Burrito Principle and the Infomercial Effect to find your best time.
(You can also get some great stats on your own, individual best time to post via the analytics at Iconosqure and Totems.)
How do Instagram Hashtags Work?
Perhaps the single best way to get your photos and videos viewed on Instagram is to add hashtags. Hashtags can help your photos reach a larger audience via Instagram search as people can find your pictures without having to follow you. They are also great for branding and organizing, especially when you're in the midst of an Instagram marketing campaign.
In fact, these two camps—search and organize—represent a two-part way of looking at hashtags. You can tag with relevant, popular hashtags and/or you can tag with branded hashtags.
The relevant, popular hashtags are the ones that may be relevant for the keywords in your photo description or popular among the community. A quick way to see which tags might be best for your photo is to do a search with the tags you have in mind. This can help you gauge the popularity of a hashtag and where your photo will fit in the competition.
Among popular tags, Instagram has a number of common ones that the community uses regularly. For even more tags, Webstagram keeps a list of the top 100 hashtags currently being used. Do you recognize some of the following?
#throwbackthursday or #tbt
#ootd (Outfit of the Day)
#selfie
#FromWhereIStand
Dan Zarrella conducted research on how hashtags affect the number of likes on a photo. His analysis covered more than one million photos, and he found that the most effective hashtags tend to deal with reciprocity and nature.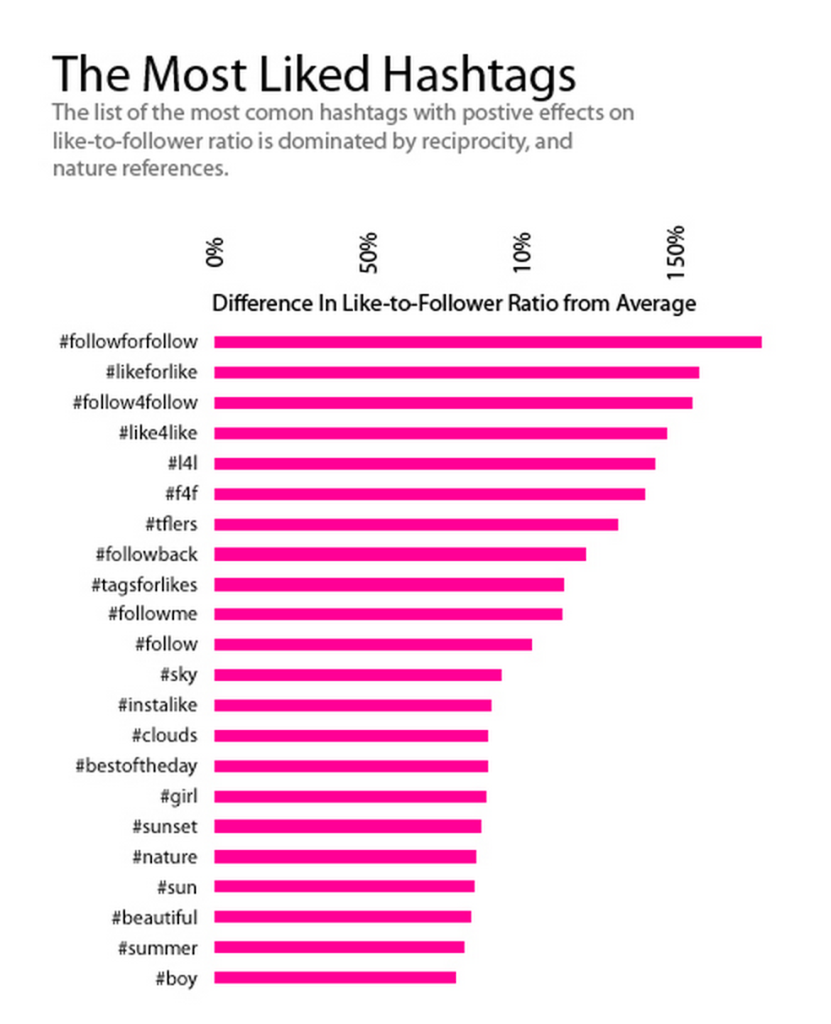 Branded hashtags can be quite useful when it comes to curating user-generated content. Here's how: A company creates a campaign encouraging its fans to submit photos. Fans are asked to tag their photos with a branded hashtag that the company chooses. The marketing team can track this hashtag to see what's submitted, and the submissions become a steady source of user-generated content.
How many hashtags is best?
Did you know that Instagram puts a limit on the amount of hashtags you can use on a single photo? (The ceiling is 30 tags. Thirty!)
Here's what 30 hashtags per post looks like.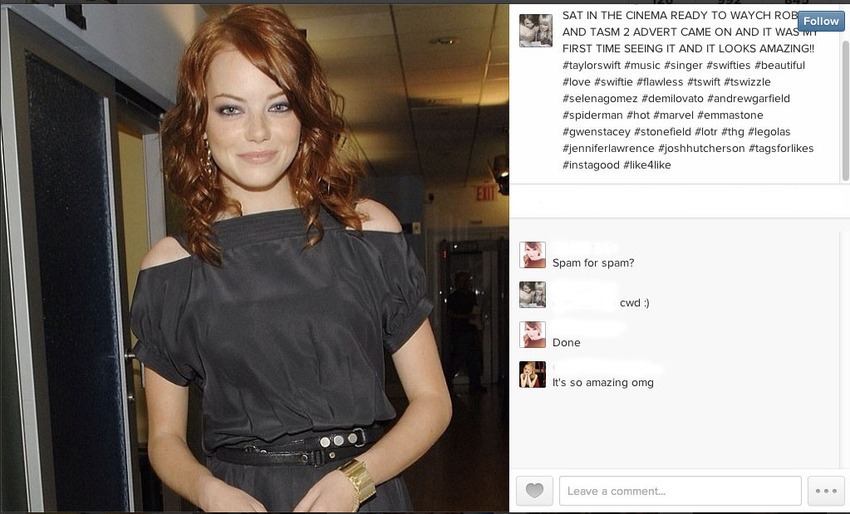 Many folks say that the golden rule of hashtags is to stop at five. It's a reasonable limit since five hashtags leaves enough flexibility to tag your most important elements and also to keep the photo description clean, readable, and pleasant. From the perspective of a follower, five or fewer hashtags is great.
But what about what's best for getting likes? Max Woolf analyzed over 120,000 Instagram photos to find a correlation between hashtags and likes. His finding is quite interesting: The more hashtags you use, the more likes your photo will get.
Woolf's numbers show that even using the maximum 30 hashtags would continue to increase your numbers. It's a bold step to take to bump up your hashtag count to chase likes and potentially give a bad experience to your followers. It makes for a complicated decision.
Do you focus on growth or do you focus on aesthetics?
How do Instagram posts look on Facebook and Twitter?
Instagram allows for linked accounts, letting you post to Instagram and then automatically to Facebook and Twitter. There's a bit of a difference in the way things are viewed at each.
On Facebook, the posting is seamless. Your pictures will look the exact same as they do on Instagram, and all your description, links, and even hashtags will appear on Facebook as you had them.
Twitter is a different story. Images are not viewable right away. Instead, the Instagram post will appear as a link post. The description text is shown as plain text in the update and then a link appears for Instagram.
How do you add images from your computer?
There are a lot of reasons why you might want to create an image on your computer first and then post to Instagram. Some brands want hi-res images shot with a camera; others choose to create images or graphics to share. You can repurpose previously created content, too.
Fortunately, the upload is pretty straightforward.
For Android users, you can connect your mobile device to your computer and transfer over the files you want.
For iOS users, you can connect to iCloud, letting you easily upload photos from desktop to the cloud and then grabbing from the cloud to place into Instagram.
How can I put together an Instagram contest?
Contests can be a fabulous way to gain more followers on Instagram, provided you do everything right.
The Totems blog has a simple set of instructions for coming up with a successful Instagram contest. Here's what's involved:
Setting goals
Defining key metrics
Choosing a hashtag (it will be the catalyst for the submitted content)
Picking a selection method for winners
Setting up rules for participants (terms & conditions)
Going live: Contest promotion and launch
Supporting the contest
Following up with contestants
What are the best third-party apps to use With Instagram?
In addition to the filters and tools available from within Instagram, there are also many apps that let you edit and upload as well. Here's a sampling of some of the best ones:
What's the difference between Instagram videos and Vine?
The two micro video services launched one after the other back in 2013 (Vine was first, for the record), and they've been closely tied ever since. Their biggest similarity is in the brevity of the videos: Instagram videos have a maximum of 15 seconds. Vine videos have a maximum of six.
Both apps let you cut from scene to scene to piece together an edited video. Both apps include audio. Here are a few key differences:
Instagram videos come with filters, just like Instagram photos.
Instagram videos play nice with Facebook. Vine videos play nice with Twitter.
Instagram has 200 million users. Vine has 40 million.
thanks to
search engine journal